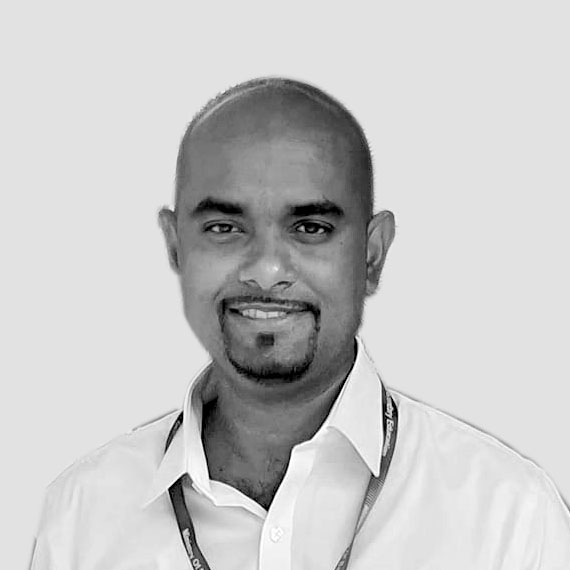 Team Lead
Senior Implementer
HISP Sri Lanka
Pamod Amarakoon serves as the Director of HISP Sri Lanka, with a distinguished career trajectory that initially began in the field of medicine. Over time, he achieved notable academic accomplishments, including two Master's degrees in Biomedical Informatics and Health Administration. Driven by his passion for Health Informatics, he successfully completed his doctoral studies, earning a Doctor of Medicine degree in Health Informatics in 2020.
In addition to his role as Director, he also contributes as a Lecturer in Health Informatics at the Postgraduate Institute of Medicine, University of Colombo, Sri Lanka, and has obtained a Postgraduate Certificate in Medical Education. Dr. Amarakoon's research interests primarily revolve around public health informatics and mHealth.
His impact extends beyond academia, as he has played a pivotal role in spearheading DHIS2 implementations in Sri Lanka for the past eight years. He serves as the technical lead for the flagship District Nutrition Monitoring System project, which has garnered numerous accolades at local, regional, and global levels, including the prestigious World Summit Award.
Dr. Pamod Amarakoon is not only an experienced DHIS2 implementer but also a seasoned trainer at the global level. His expertise has been instrumental in DHIS2-based implementations in various Asian countries, including Sri Lanka, Timor-Leste, and Pakistan. In 2018, he was involved in conducting an information system country assessment in Libya.
Since 2017, Dr. Pamod Amarakoon has served as a DHIS2 consultant in Timor-Leste, providing vital support to the National Malaria Programme of the Ministry of Health. His contributions have gone beyond borders, as he played a pioneering role in establishing a DHIS2-based COVID-19 surveillance system in Sri Lanka. This initiative served as a cornerstone for the development of the DHIS2 metadata toolkit for COVID-19, which is currently in use across more than 50 countries worldwide.
Beyond his professional commitments, Dr. Pamod Amarakoon actively participates as a council member and Assistant Treasurer of the Sri Lanka Medical Association and the Perinatal Society of Sri Lanka. He holds the position of Executive Vice President in the Health Informatics Society of Sri Lanka, where he continues to support efforts to strengthen digital health in Sri Lanka.
Gishan Liyanage currently serves as a Senior Business Analyst at HISP Sri Lanka. He has over 18 years of
experience in the IT industry in various sectors including health sector as a Systems Administrator and also as a Business Analyst both local and foreign organisations. 
Gishan holds a Masters degree (2018) in Health Information Management Systems at University of Colombo, Sri Lanka. He has been involved in various system implementations in both Government and Private sector organisations. He is a member of British Computer Society, Australian Computer Society, Sri Lanka Computer Society and Charted Professional Managers Sri Lanka
Senior Business Analyst
HISP Sri Lanka

Senior Developer
Web & Android
HISP Sri Lanka
Hazly Mohammed is an experienced PHP full stack developer, DHIS2 based custom Web App and Android
developer with a mixed experience of over 5 years and currently attached to HISP Sri Lanka at the capacity of Senior Software Developer. He is currently working closely with HISP Mozambique (Saudigitus) to develop a module for their custom web app, and also he is actively managing and supporting DHIS2 based Web and Android apps like "Growth & Nutrition Management System" (GNMS) at the Ministry of Health Sri Lanka. 
Furthermore, Hazly holds a Bachelors degree in IT (UCSC) and currently he is studying for his final year of Masters degree in Information Systems Management at University of Colombo, Sri Lanka.
Dharshitha Senevirathne currently serves as a Senior oftware Developer at HISP Sri Lanka. He has over 4.5 years of experience in the IT industry in multiple domains including Airline, Agriculture and Education. He is a proficient full stack developer, in Java-based frameworks (like Spring Boot and Quarkus), Angular, Docker, and Kubernetes.
Dharshitha's portfolio includes feature development in following notable projects:
• OSOS SIS: A comprehensive student information system that efficiently manages student data and school administration tasks within the education sector. 
• Govi AI: An innovative IoT platform designed for optimizing micro-environmental factors like irrigation, temperature, humidity, and ambient lighting in natural food farms.
• IFS Maintenix: A cutting-edge aviation maintenance solution that unifies processes across the entire organization, ensuring robust control and regulatory compliance. Currently, he is pursuing a master's degree in advanced software engineering from a university accredited to the University of Westminster.
Senior Developer
system Integration
HISP Sri Lanka